The Internet of Things (IoT) links everyday electronic devices with the existing internet infrastructure to provide new levels of integration, information and convenience through a variety of protocols, domains, and applications. IoT is considered the next killer application in post mobile era, and can refer to a wide variety of electronics such as smart watches, smart fitness bands for wearable application, heart monitoring implants for health application, home security is smart home, automobiles with built-in sensors, or city managements operation devices that assist fire-fighters in search and rescue. Each of these applications requires specialized technologies.
IoT Applications & Key Technologies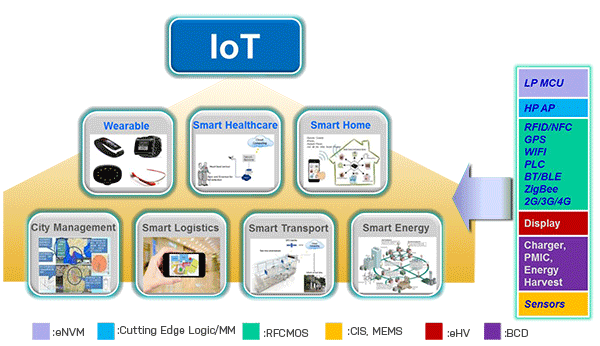 IoT Technology Solutions
The problem facing today's IoT designers is that current IoT/wearable devices are forced to adopt existing, standard technology solutions that are not optimized for the IoT/wearable market. UMC recognizes that IoT devices share specific common features: MCU/AP to process data, eNVM to store pre-defined code, and wireless connectivity for data transmission. Also, most IoT products favor an ultra-low power process to extend battery life.
To address these needs, we have built one of the industry's most robust IoT-specific platform solutions to cater to IoT designs. Our specialty processes are ideally suited for power-sensitive smart applications, with various embedded non-volatile memory options and UMC's sophisticated RFCMOS technology that enables "always connected" status within a low-power environment. In addition to lower supply voltage and lower leakage for longer battery life, our non-volatile memory options provide additional flexibility to position your designs into cost-sensitive or performance-driven markets. UMC also offers an ultra-low power (uLP) process featuring very low leakage for a variety of our process technologies.
IoT chip designers can take advantage of the foundry industry's first integrated IoT platform that uses UMC's low power technology as a foundation. Since the requirements of the broad range of IoT products are highly fragmented and specialized, different process options can be integrated to create a customized platform to serve specific needs.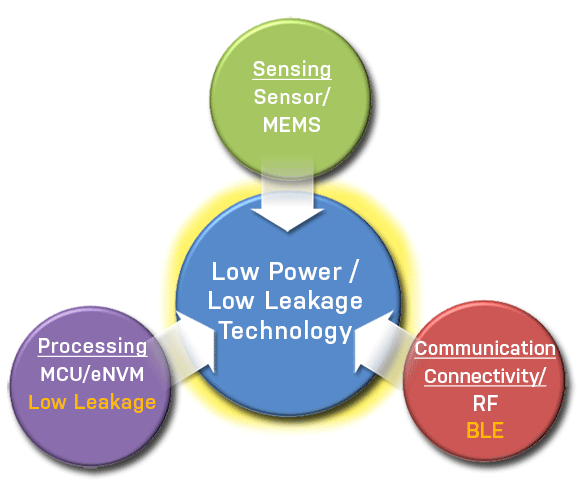 UMC, Your Ideal IoT Partner
UMC works together with our IoT ecosystem partners to ensure that you migrate, implement, and manage the robustness of your designs effectively and securely.
| | |
| --- | --- |
| • | We can provide turn-key solutions as your one-stop-shop to accelerate product time-to-market. |
| • | An innovative Fusion process brings the features and functionality of your products to life |
| • | UMC's MEMS platform enables CMOS + MEMs technology in multiple-axis sensing for wearable devices. |
| • | Our strong uLP IP portfolio guarantees your design will run at lower Vdd, with on-site APR support to maximize your design success. |
Complete Solutions to Enable IoT Design